Get the list of the Top 50 Search Engines in 2023. These Search Engines lists the newest and the most popular search engines available in the market for 2023. You must check out these search engines if you are a tech user.
We'll list all the popular 50 search engines, from the ever-popular Google to the always-changing Yahoo, there are also plenty of newer search engines for you to explore.
List of Top 50 Search Engines in 2023
In this part, we'll provide you with a list of top 50 search engines in 2023 with their main use.
Top 10 Search Engines
1. Google
Google comes first on our top 10 search engines list.
It was created by Larry Page and Sergey Brin, on 4 Sep 1998. Google occupies about 92% of the global market share and contains about 7 billion daily searches. Google updates its algorithms from time to time, forcing websites to create quality content, rather than keyword stuffing.
Quick Facts:
Monthly Visits: 86.4 Billion
Daily Searches: 8.5 Billion
Most Traffic From: United States
Launched in: 1998
2. Microsoft Bing
Bing is the second most visited search engine (so we select it as the 2nd), containing approximately 3.33% of the global search market share. Bing also has more features than other search engines, but can't compete with Google. Microsoft Bing was created on June 3, 2009.
Quick Facts:
Daily Searches: Around 900 Million
Most Traffic From: China
Launched in: 2009
3. Baidu
Baidu is a search engine founded in 2000 & hosted in China. Approximately 77% of internet users in China use Baidu. Baidu also comes with a wide range of features and services like Google.
Quick Facts:
Daily Searches: 6 Billion
Most Traffic From: China
Launched in: 2000
4. Yahoo
Yahoo is mostly known because of its fantastic email-providing services. Yahoo stands third because it is the fourth most popular search engine, containing around 1.3% of the total search market share. This Search Engine was developed in January 1994. In 2001 market share of Yahoo was 36.7%, but now it is less than 2%.
Quick Facts:
Daily Users: Around 1 Billion
Most Traffic From: United States
Launched in: 1994
5. Yandex
Yandex is a Russian Search Engine. Almost half of Russia uses Yandex. Yandex is just not a Search Engine, like Google, it also provides lots of other services, such as maps, weather, news, translation, and much more. This Search Engine is also popular and contains about 0.97% of the search market share, that's why we have chosen Yandex as the 5th of the Top 50 Search Engines.
Quick Facts:
Daily Search Sessions: Around 8.5 Million
Most Traffic From: Russia
Launched in: 1997
6. DuckDuck Go
The main priority of DuckDuck Go is to take care of the privacy of its users. Approximately, 90+ Million searches are done, daily, on DuckDuck Go, but again its global search market share is just 0.71%. The interface of this search engine is decent and clean, it also does not track its users.
Quick Facts:
Daily Searches: 98.79 million
Most Users From: United States
Launched in: 29 Feb, 2008
7. Ask.com
Ask is one of the top questions answering search engines. There is one main problem with the ask search engine, and that is the lack of quality results. This search engine was started in 1996, by Garret Gruener and David Warthen. Ask.com was first known as Ask Jeeves, but Ask Jeeves was changed to Ask.com in 2006.
8. Ecosia
Ecosia is a search engine that uses 80% of the revenue generated from its search engine to plant trees. Usually, Ecosia's team plants a tree per 45 searches. Ecosia was founded on 7th December 2009.
9. Aol.com
AOL has existed since 1985 and still, it is in the top 50 search engines with a search market share of about 0.05%.
10. Internet Archive
Internet Archive is a search engine used to see how a website looked in the past.
More Search Engines
11. Naver
Naver is a South Korean Search Engine that provides its results in the South Korean language. Naver gets around 1.20 Billion Monthly Visits and it's among the top search engines.
12. ExactSeek
ExactSeek gets around 60K Monthly Visits, and 60% of this traffic comes from India.
13. Peekier
Peekier gets around 180K Monthly Visits. This search engine is like DuckDuck Go, and respects your privacy.
14. SimilarSiteSearch
SimilarSiteSearch is a search engine that helps you to find similar or alternative websites, for your typed website.
15. Qwant
Qwant is another search engine that respects the privacy of its users. It was founded in 2013. It operates more than 10 Million Search Queries per day and has about 50 Million monthly users.
16. Info.com
Info.com is a simple search engine, which displays results from Google, Bing, Yahoo, and other Search Engines.
17. Spokeo
Spokeo is a people search engine that helps you to find people by their name, email, or phone number.
18. LookSeek
Lookseek.com doesn't track its users.
19. Skaffe
Skaffe is among those search engines, that respect the privacy of their users, we can categorize it as a Safe Search Engine.
20. Anoox
On our Top 50 Search Engines list, Anoox stands for 20th. Anoox is a search engine that provides results based on people's votes and reviews. If many people downvote xyz.com, then its rankings on Anoox will be dropped.
21. InfoSpace
InfoSpace is an American, private-label search engine that supplies real-time results to its users
22. Cipinet
Cipinet is a Business Web directory and a popular search engine since 2022. It's DA (Domain Authority) is 33. You can also submit your website cipinet.
23. Gimpsy
Gimpsy is an internet directory search engine with a DA of just 32.
24. Social Searcher
Social Searcher is a Search Engine used to search for content from Social media. Users can search for public information available on Social Media.
25. Goo
Goo is a Japanese Search Engine. This search engine mostly crawls data, presented in the Japanese language.
Other Search Engines
Social Search Engines
26. FaceBook
Facebook stands on 1st of our Social Search Engines. Facebook is a Social Search Engine, it is used to search for people, news, pictures, videos, and much more. Per second on FaceBook, more than 40,000 queries are searched, and 2 billion per day
27. Linkedin
Most people on Linkedin, are seeking a job. But you can search for many things on Linkedin like People, Jobs, and Answers.
28. Twitter
Twitter is growing, currently, it receives more than 1.5 Billion searches per day. Mostly Twitter is used to search for trending topics such as news.
Image Search Engine Sites
It's time to discuss a few Image Search Engines.
29. Flickr
Flickr is a popular image and video-sharing platform. This company is hosted in the U.S. Flickr gets around 58.50 Million monthly visits, and 30% of its users are from the United States.
30. Pinterest
Pinterest is a video, picture, and gif-sharing platform. Pinterest is included among the top social sharing platforms. Pinterest gets around 979.90 Million monthly visits, and 45% of this traffic comes from the United States.
31. TinEye
This search engine is a reverse image search engine. Users just have to upload the image and TinEye will provide them with every data about that picture. TinEye gets around 7.90 Million monthly visits.
32. FreePik
FreePik is a fantastic platform to find vector images. You can download fonts, images, vectors, and much more from FreePik. It gets around 68.30 Million visits per month and most of this traffic comes from India.
33. WebToolHub
You can find thousands of high-quality icons. WebToolHub gets around 177.70K monthly visits. 60% of this traffic comes from India.
Video Search Engine Sites
These 9 Video Search Engines create the Top 50 Search Engines.
34. YouTube
Youtube is a growing video-sharing platform by Google. Youtube gets around 35.10 Billion visits per month. The average visit duration on youtube is 21 minutes and 42 seconds.
35. DailyMotion
DailyMotion is an alternative to Youtube. It gets around 132.60 Million visits per month.
36. Vimeo
Vimeo is a popular video-sharing company. Vimeo gets around 76.30 Million visits per month. The average visit duration of Vimeo is 3 minutes and 18 seconds.
37. PeerTube
PeerTube is also a good video-sharing platform. Peertube gets around 228.60K visits per month.
38. Dtube
The interface of DTube is somehow similar to Youtube. It gets around 402.50K monthly visits.
39. BitTube
BitTube is a crypto-decentralized video search engine. BitTube gets around 118.30K monthly visits
40. BitChute
BitChute was created In 201a7. BitChute allows people to upload any type of content without following the guidelines that they used to follow on YouTube. It gets around 32.70 Million monthly visits.
41. Twitch
Twitch is mostly popular because of live-streaming games. Twitch gets around 1.30 Billion visits per month
42. MetaCafe
MetaCafe was founded in 2003. It is also an alternative to YouTube
Dark Web Search Engines
43. Onionland
Our 1st Dark Web search engine is Onionland. This Search Engine is for the Dark and Deep Web.
44. Ahmia
Ahmia is an example of another Dark Web Search Engine. This search engine searches for hidden searches from the Tor network. Ahmia gets around 183.50K visits per month
45. Torch
Torch Search Engine has indexed about 300,000 onion pages.
46. Not Evil
Not Evil is used to list or find onion websites.
47. Haystack
It has indexed more than 1.5 billion pages. Haystack gets around 101.50K monthly visits.
Knowledge Search Engines
It's time for some knowledgeable search engines, and this is the second-last type of search engine in the list of Top 50 Search Engines in 2023.
48. Answers
It gets around 6.20 Million visits per month.
49. Quora
Quora is a popular question-answer platform. Quora gets around 637.90 Million visits per month.
50. eHow
It is a platform for how-to guides, with more than 150,000 videos. eHow gets around 4.50 Million visits per month.
What is a Search Engine
A Search Engine is a web application developed to find data from the www (World Wide Web), according to the typed query.
How Does a Search Engine Work
Here are the 3 roles that every search engine performs before providing any data.
Crawling
Indexing
Ranking Algorithm
Top 5 Search Engines with Their Global Market Share
Here are the top 5 search engines with their global market share. So if you own a website, you must submit it to these search engines.
If you don't own a website, then don't worry, Because we'll create a website for you at a very cheap price. Just contact us through this contact form.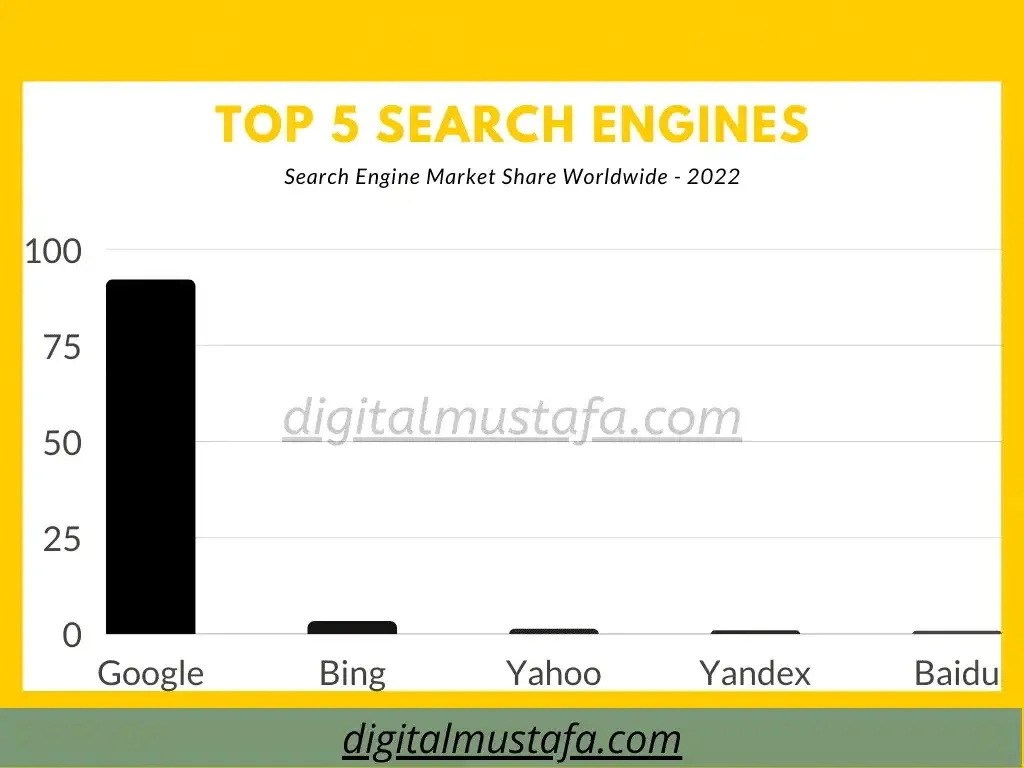 Will ChatGPT Replace Search Engines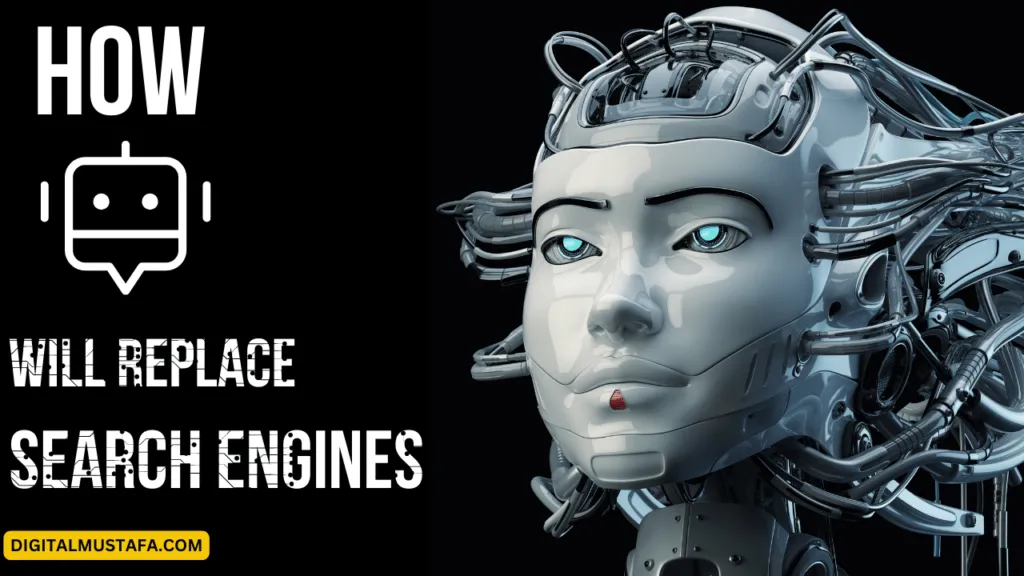 ChatGPT is a trained AI chatbot that answers almost all questions. ChatGPT was launched by OpenAI on 30 November 2022 and got more than 1 Million users in just a few weeks. ChatGPT can easily answer Human questions and can provide you with lots of data. It can help people in writing articles, ad copies, providing code, and much more.
The main question spreading around the globe is that WIll ChatGPT replace Google or any other search engine?
The short answer is Yes, while the long answer is No.
Why? How?
Let me clear everything up.
If we focus on the short term. Chat GPT is not going to kill search engines for the next 3-8 years. WHY?
Just because ChatGPT has several limitations and issues. Let me list all of them
Lack of Updated Information: Still AI can't provide 100% accurate & updated content. This is one of the main reasons why these famous search engines are going to stay for the next couple of years.
Duplicate Answer: Search Engines show different results for two different queries, while AI or chatbots list exactly the same answer for 2 different questions.
EG: Query 1: How to make money online, Query 2: How to make money online in 2023.
Search engines are going to show somehow different SERP results, while ChatGPT will list almost the same information.
Require Registration: ChatGPT requires registration/login to use it. This means before using Chat GPT, you have to make sure that you have created an account on OpenAI. While Google or many other Search Engines doesn't require a login.
If we talk about the long term, then ChatGPT may kill most of the search engines, just because of its awesome features which are time-saving.
Obviously, rather than searching on search engines, opening different sites, and wasting minutes. People will choose to give their few seconds to AI for generating a correct answer.
But another reason that can avoid people to use ChatGPT is that it does not provide great data in the free plan.
Anyways.
Come on, and let's go to the conclusion of this blog post on the Top 50 Search Engines, that are going to fight against ChatGPT.
Common FAQs
What is the most accurate search engine?
No search engine can be accurate always. But there are a few search engines that are globally trusted & widely used.
Google
Bing
Yahoo
These 3 search engines are the 3 most popular search engines at the current time.
What Is the Best Search Engine for Privacy?
DuckDuck Go is one of the most popular privacy search engines. I'll highly recommend you to see it if you are concerned about your privacy.
Is Google the only search engine?
Google is not just one search engine. There are hundreds of search engines available in the market. Google is just well-known & popular among all of the other search engines.
What search engine is better than Google?
No one can tell you exactly that what search engine is better than Google. But if you want to try something new then you can go with DuckDuck Go or Microsoft Bing.
What is The Best Search Engine for Videos?
YouTube is one of the most popular and widely used video search engines. YouTube gets around 34.5 Billion Monthly Visits.
What is the Safest Search Engine in 2023?
There are several search engines that respect the privacy of their users. But Duck Duck Go has stood at the top of the safest search engine list for the last few years and still it's the safest search engine in 2023.
Conclusion
So, this was the list of Top 50 Search Engines in 2023. There are more than 200 search engines around the globe, but it was difficult for me to cover all of them in this article. I Hope, the list of these search engines would be helpful to open your mind by increasing your knowledge about search engines.